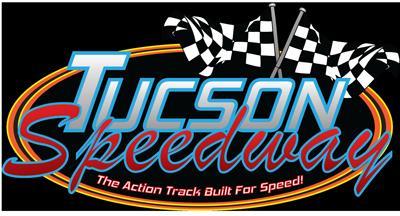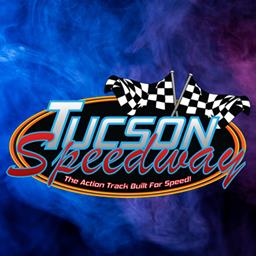 ---
August 28, 2023 News
t was another great night of racing at Tucson Speedway as the championship points battles are coming to an end. Most of our classes have 3 race nights left and a couple of them have Double Mains or Twin events. This coming weekend is one of them for the Super Late Models in addition to the Thunder Trucks, Hobby Stocks, Legends and Bandoleros.
REMINDER: We are back to normal opening times – Pit Gate opens at 1:00pm – Front Gates open at 5:00pm – Opening Ceremonies at 6:25pm and Racing at 6:30pm. Zach leaves the tire barn around 6:00 pm each race night so be sure to have your tires mounted before then if at all possible.
The Super Late Models will race Twin 39 lap main events with $1,500 to win each event. The entry is $150 for car and driver. The winner of each main receives $1500. If you're a double winner you could go home with a $3,000 pay out. Note – SLM's participating in this event are not eligible for the bonus money presented by Sierra Cycles, Red Eye Radiator and Tucson Speedway.
SLM Twin main pay
1st - $1500
2nd - $ 800
3rd - $ 600
4th - $ 500
5th - $ 400
6th - $ 300
7th on down $250
13th - $275
Joe Paladenic had a clean sweep in his Lawley Chevrolet Super Late Model last race celebrating our country's Independence Day. Jennifer Hall finished 2nd behind Paladenic. Currently 37 points separate Paladenic from Hall in the Championship points battle going into this Super Late Model Twin event. Will Jennifer Hall get her 2nd win of the season and stop Paladenic's winning streak or will someone else get their first win of the season?
The Delta Trading Group Thunder Trucks put on a great show Saturday Night with Rookie Kalvin Catlin setting quick time but that wasn't enough to stop David Levitt from continuing his winning streak at Tucson Speedway. Rookie Keirsten Jones led the first 10 laps of the event with Levitt taking the lead on lap 11. In a 3 wide battle for 2nd Zane McKissick and Adam Farr passed Jones with 5 to go finishing Levitt, McKissick, Farr, Jones and Catlin rounding out the top 5. With 9 wins Levitt leads the Championship points battle by 77 over McKissick. Only 14 points separate Farr and Hall for 3rd while Rookies Catlin and Jones have a 5 point difference battling to finish in the top 5 for the season.
Rookie Kalvin Catlin continued his winning streak in The Awards Store/Park Avenue Jewelers Hobby Stocks. With 7 wins for the season, Catlin takes over the points lead by 9 points with Rookie Brian Love sitting in 2nd. This class is full of Rookie contenders this year and Tucson Speedway will most likely crown a Rookie Champion in 2024.
The Desert Valley Landscaping Bandoleros have 3 races left in the season. Rookie Dominic West has 3 wins and past champion Sofia Medrano has 2 wins going into this race weekend. They are tied with 311 points. Who will win this main event to take over the points lead? Rookie Gus Levin continues his winning streak in the Bandolero Outlaw. This should be an exciting event you will want to come watch.
We are looking for someone who likes to be on the Mic and understands a bit about racing to become our announcer at Tucson Speedway. If you or someone you know is interested, please have them contact Shelly McGriff by phone 520-603-8751 or shelly@tucsonspeedwayaz.com.
Remember the start times are back to 1:00 pm Pit Gates Open, 5:00 pm Spectator Gates Open and RACING at 6:30 pm.
September 16 – Roadrunner and NASCAR Kids Night – Modifieds, Thunder Trucks (Double Mains), Pro Stocks, Hornets and Mini Stocks
September 30 – Bad to the Bone – Super Late Models, Pro Stocks, Hobby Stocks, Legends and Bandoleros
October 14 – 56th Hank Arnold Memorial with Trunk N Treat – Modifieds, Thunder Trucks, Pro Stocks, Hornets and Mini Stocks
October 28 – Grand Finale with Trunk N Treat – Modifieds, Super Late Models, Hobby Stocks, Legends and Bandoleros
November 24-26 – Turkey Shoot Weekend – Super Late Models and CAN-AM Sprints w/ Hobby Stocks joining on Sunday – Rules and registration will be posted soon.
JANUARY 2024 – Chilly Willy will have Practice Day again Thursday 1/18/24 with racing on Friday, Saturday & Sunday 1/19/24 – 1/21/24 and it will be $15,000 to win. Rules and registration will be posted soon.
Thank you for your continued support and we hope to see you there!!
Thank you,
Tucson Speedway Management
---
Back to News